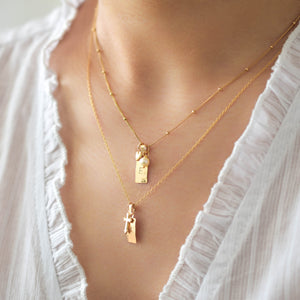 Custom Initial Medallion Necklace
Sale price Price $27.50 Regular price Unit price / per
Add a personalized element to your necklace stack with this dainty initial necklace. The rectangular shape makes for a nice contrast with coin necklaces. Choose from different chain types, medallion textures, additional charms, and necklace lengths to create your own unique piece.
All materials are 14K gold filled and genuine freshwater pearls. Your necklace will be tarnish resistant, water resistant, and hypoallergenic.
Let me know in the personalization box or in the notes at checkout what letter you would like, if you would like a custom necklace length, any additional charms added to your necklace, any metal textures on the medallion, or an additional 2 in extension chain.
MEASUREMENTS:
chain length: default is 18 inches, but you are welcome to leave me a note with a custom size. Photo shows sizes 17, and 18 inches.
initial medallion - 14 mm x 6.2 mm
classic chain - 1.5 mm
figaro chain - 1.5 mm
beaded chain - 1 mm with 2 mm beads
fancy link chain - 2 mm
COMPLETE THE LOOK:
The oval coin necklace in the photo is also available here:
https://www.etsy.com/listing/683280177/st-christopher-necklace-oval-st
--------------------仫 PROMOS 仫--------------------
Want 10% off? Join the mailing list by visiting http://bit.ly/vedern . Your discount code will work on Vedern at Etsy.
--------------------仫 BUY WITH CONFIDENCE 仫--------------------
Don‰۪t love it? Message me to set up a return or exchange. If you find any problems with your items, just send a message with a photo, and a new one will be on its way to you!
--------------------------仫 PACKAGING 仫---------------------------
Gold filled, vermeil, and sterling silver items will all come with boxes ready for gifting. If you are gifting and not sure if the item comes with a box, feel free to leave a note at checkout requesting one.
-------------------------仫 JEWELRY CARE 仫--------------------------
‰Ï_ 14K Gold filled jewelry can benefit from a light wash with some mild soap once in a while (and especially before storing the jewelry for a long time) to remove any sweat/oils build-up.
‰Ï_ 18K Gold-plated steel jewelry also benefits from a light wash.
‰Ï_ Sterling silver jewelry will tarnish over time, and when it does, a nice wipe down with a polishing cloth will bring it right back. Remember to wash the jewelry after polishing to keep the polish from irritating your skin.
‰Ï_ Pearl items like to be worn at least once every few months or stored with open air to keep the pearls from naturally yellowing.
----------------仫 LAYERING NECKLACES 仫------------------
‰Ï_ If you hate tangling, go for thicker/heavier chains like the "sleek chain", "fancy link chain", etc.
‰Ï_ To match the gold color of your pieces, make sure your pieces are of the same karat like all 14K gold or all 18K gold etc.
‰Ï_ Not sure how much to stagger your necklaces by? Try this:
< 18 in. necklaces => stagger by 1 in.
>= 18 in. necklaces => stagger by 2 in.
----------------仫 INTERNATIONAL BUYERS 仫------------------
Please be aware that your country may charge you a customs handling fee or import tax for buying goods outside of your country/region. Laws differ by country. Please look up your local rates. United Kingdom buyers, for example, are subject to VAT and a handling fee of å£8 as of 2019 from Royal Mail.
If applicable, you will be able to leave your customizations in the notes at checkout.
Ships in 3-5 days. Shipping times within the USA are aproximately 3-6 days with USPS First Class Package. Faster shipping options and international shipping times are available at checkout.
Questions?
|
Return Policy
|
Reviews on Etsy